Welcome
My tutorials are all copyright compliant and created for those with a working knowledge of PSP. All tutorials are of my own creation and any resemblance to any other tutorial is purely coincidence. I strive to be 100% copyright compliant, so if you see something of yours on my blog that I haven't given credit for, please notify me immediately so I can give credit or take it down. Do not take my tutorials and claim them as your own or place them on another site. Direct people to my blog instead. I hope you enjoy my tutorials!


My Tutorials
Blog Archive

Sunday, August 7, 2011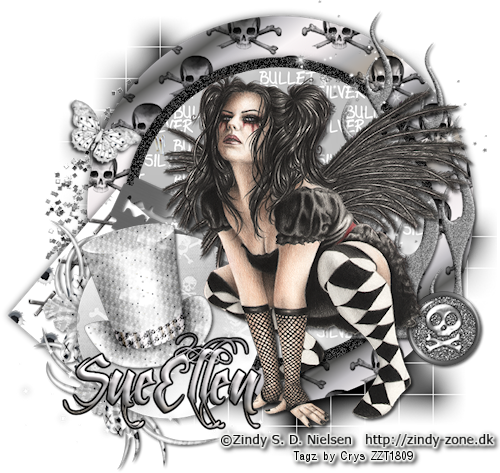 For this tutorial you will need the following:
Scrap kit: PTU kit Silver Bullet by Wicked Creation Scrapz
HERE
Tube: PTU by Zindy S.D. Nielsen
HERE
Must have a license number to use her work
Font Used: Feathergraphy Decoration
Mask of choice
♥ Let's Get started! ♥
Open template, image, canvas size 750x750
For the drop shadow on evertying I am using the following settings:
Verticle: 2, Horizontal: 2, Opacity: 70, Blur: 6, color black. (you use what ever you want)
Remember to save as you go.
(*Resize everything before you start copy and pasting)
Paper 1 (resize 76%)
Paper 4 (resize 56%)
Paper 9 do not resize
Paper 10 (resize 56%)
Butterfly (resize 44%)
Flame Do Not resize
Glitter Brad (resize 48%)
Glitter Scatter Do not resize
Hat (resize 66%)
Orchid Do Not resize
Razor blade (resize 60% Mirror)
Stars Do Not resize
Tube (if using the same tube do not resize)
You can always refer to the sample for placement of anything!
Delete the copyright, word art (unless you want to use), and the rectangle.
Add new raster layer, drag to the very bottom in the layer palette, flood fill with black
Layers, load/save mask pick your mask of choice, merge group.
Select the large cirle at the bottom layer, selections, float, defloat, invert.
Copy and paste paper 9, hit delete on the keyboard. Selections, select none. Delete the grey circle.
On the black circle layer, Adjust, add noise with these settings, Uniform and monochrome checked
and noise set at 100%. Don't forget to add your dropshadow as you go.
on the circle above the black circle, selections, float, defloat,invert, copy and paste paper 1
selections, select none, and delete the grey circle.
on small square selections, float, defloat, invert copy and paste paper 4, selections, select
none, and delete dark grey square. Do the same with the small cirlce above it, copy and paste
paper 10. Copy and paste the glitter scatter and drag below the largest circle adjusting to the
left by the square. Copy and paste the stars, drag to the top layer, adjusting to the top right
side. Copy and paste the flame, moving it to the right side. copy and paste the glitter brad,
moving to the bottom of the flame, covering it up. copy and paste the butterfly, adjust to the
left side (see sample for placement). Copy and paste the orchid, drag below the smallest circle
Now copy and paste the tube, adjust to your liking, then click and paste the razor blade, moving
it below the small circle. Copy and paste the hat, placing it in the small circle. Make sure
you added your dropshadow to everthing as you went.
Crop and resize to your liking, I resized to 500. Make sure DPI is 72.
Add your name. I did add a gradient glow to mine but if you do not have Eyecandy 4000, just
selections, float, defloat, modify by 2, add new raster layer and flood fill with black.
Drag below the name and add dropshadow. Add your copyrights for the tube.
Merge visible and save! you're done! Simple and easy.
I would love to see what you made!
Thank you for following my tutorial! If you have any questions please email me at
kissnjoe@yahoo.com
!
About Me
Crys

I am a SAHM of 2 very active kids and a Wife to a wonderful man. I also take care of my grandma who lives with us...so yep I am a busy girl...lol, I started out as a tagger almost 4 yrs ago and then I started making templates and writing tutorials, one day I decided I wanted to try my hand at making scrap kits...and almost 2 years later, I am still making them. I have met a lot of amazing people along the way that have helped and given me support through-out all of this. Big hugs and thanks! Well that is about it, if you want to know more...just shoot me an email!
View my complete profile

Labels

Email Me
Send your results from my tutorials and I'll post them on my blog. I'd love to see what you make! Just send them to me at the link below and I'll get them posted.
creativescrapsbycrys@yahoo.com