Welcome
My tutorials are all copyright compliant and created for those with a working knowledge of PSP. All tutorials are of my own creation and any resemblance to any other tutorial is purely coincidence. I strive to be 100% copyright compliant, so if you see something of yours on my blog that I haven't given credit for, please notify me immediately so I can give credit or take it down. Do not take my tutorials and claim them as your own or place them on another site. Direct people to my blog instead. I hope you enjoy my tutorials!


My Tutorials
Blog Archive

Wednesday, May 19, 2010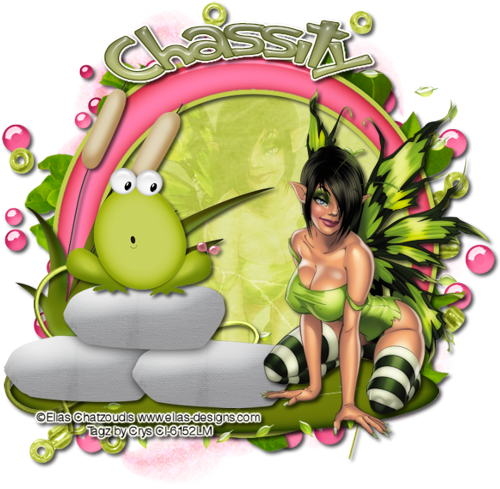 This tutorial is for someone with the basic knowledge of PSP
For this tutorial you will need the following:
I've used a PTU tube by Elias Chatzoudis. You can purchase his art
HERE
(*Note you must have a license to use his art)
Scrap Kit: PTU kit Lilly Pad by Chassity @ PolkaDot Scraps
HERE
Mask: I used mask #414 by Vix you can get it
HERE
Plug-ins: (Optional)
Eyecandy 4000: Gradient glow, Glass
Xero: Porcelain, Radiance
Font Used: Shark Random Fun
♥ Let's Get started! ♥
In Psp Open new layer 600x600, make sure it is on 72 DPI and trasparent is checked.
For the drop shadow on evertying I am using the following settings:
Verticle: 3, Horizontal: 3, Opacity: 70, Blur: 6, color black. (you use what ever you want)
(*Resize everything before you start copy and pasting)
Open your scrap kit and select:
Frame 4 (resize by 78%)
Paper 11 (resize by 72%)
Paper 1
Element 2 (resize 45%)
Element 6 (flip)
Element 7 (resize 78%)
Element 10 (resize 68%)
Element 20 (resize 74%)
Element 28 (resize 52%)
Element 31 (resize 89%)
Element 39
Element 40
Copy and paste paper 11, apply vix mask 414. Copy and paste the frame, with the magic wand
click inside the frame, selections, modify, expand by 6. Selections, invert and copy and
paste paper 1, click delete on the keyboard.
Copy and paste element 39, move below frame. and arrange where you like it, same with
element 40. Copy and paste the cirlce of leaves, move below the frame.
Copy and paste the tube of choice below the frame. with the magic wand, click in the center
of the frame, selections, modify, expand by 6, selections, invert. Click on tube again and
hit delete button. (next step is optional) Effects, plugins, xero, radiance with these settings:
Strangeness 128
Charm 50
Truth 128
Beauty 255
still on the tube, in the layer palatte, blend mode, soft light, at 66%.
Copy and paste the lilly pad and arrange it at the bottom of the frame, copy and paste the
small scattered leaves, see the sample for placement on the elements. Copy and paste the
rocks, copy and paste the cattails behind the rock, now copy and paste the frog, place him
on top of the rock. Copy the ribbon and place it behind the rock, again see the sample for
details. Copy and paste the tube, mirror, arrange her to be on the right side, sitting on the
lilly pad. (next step is optional) on tube layer still, Effects, plug ins, xero, porcelain,
on these settings:
Strength 128
Softness 27, Brightness 128
Add drop shadow to all the elements and tubes. Add your copyright info. Now for adding
the text on a curve.
click on the reset shapes and select ellipse. Select the circle and draw out a circle a
little bigger than the frame. Do not convert to raster, leave as a vector. Right click
on the vector circle and add a new raster layer. With your text tool, click at the top of
the vector circle and type the name. Convert to a raster layer. Delete the vector circle
and extra raster layer. (next steps are optional)
With the font layer selected, effects, plugins, eyecandy, glass, click on settings, click on
snow, and then click ok. Next...effects, plugins, eyecandy, gradient glow, choose a dark
green and then with a second slider, move it 1/4 of the way across the bar, then move another
slider down 3/4 of the bar and make it white. Click Ok. Add your drop shadow. If you need
to, crop and resize.
There ya go, one new siggy! I hope you enjoyed the tutorial! If you do it, I would love to
see the results. Thank you!
About Me
Crys

I am a SAHM of 2 very active kids and a Wife to a wonderful man. I also take care of my grandma who lives with us...so yep I am a busy girl...lol, I started out as a tagger almost 4 yrs ago and then I started making templates and writing tutorials, one day I decided I wanted to try my hand at making scrap kits...and almost 2 years later, I am still making them. I have met a lot of amazing people along the way that have helped and given me support through-out all of this. Big hugs and thanks! Well that is about it, if you want to know more...just shoot me an email!
View my complete profile

Labels

Email Me
Send your results from my tutorials and I'll post them on my blog. I'd love to see what you make! Just send them to me at the link below and I'll get them posted.
creativescrapsbycrys@yahoo.com